Frequently-Asked Questions
‹

How much money can I make?

Mountain Mike's Pizza is prohibited by law from making any earnings claims or predicting sales or profits for any locations. However, we do compile and report data on average unit sales from the most recent full fiscal year in operation in Item 19 of our Franchise Disclosure Document (FDD). Financial performance can vary greatly depending upon how franchisees manage day-to-day operations and finances as well as factors specific to each location such as occupancy, costs, labor and the potential for sales.

‹

When can I expect to reach break-even and profitability?

The time frame varies by location and market as well as franchisee management. As in any franchise business, we are prohibited by Federal Trade Commission regulations from predicting earnings or profitability.

‹

How much does it cost to open a Mountain Mike's franchise?

Startup costs can also vary greatly based on the size of your store, age of the building and regional restrictions. Total startup investment, including the franchise fee and working capital, ranges between $208,020 to $593,520, according to Item 7 in our most recent Franchise Disclosure Document (FDD). To receive your free copy of our FDD, please fill out the form on this page.

‹

What are the financial requirements for a Mountain Mike's franchisee?

To be a qualified franchise candidate, you must have a minimum net worth of $300,000 and at least $100,000 in liquidity, along with having a good credit score and credit history.

‹

What is the franchise fee?

The franchise fee is $30,000 per unit. We also offer a 50% discount, resulting in a $15,000 reduction on the initial fee for qualified Veterans of the U.S. Armed Forces.

‹

What are the royalty and marketing fees?

Mountain Mike's royalty fee is 5% of your adjusted gross sales. An additional 3% fee is collected toward a national and regional Marketing and Advertising Funds, specifically to build the Mountain Mike's Pizza brand and advertise your business regionally.

‹

How big is a typical Mountain Mike's location?

The traditional store size varies from 2,500-4,000 square feet. We provide you with a floor plan specifically designed for your space.

‹

How are store sites selected?

You are responsible for finding a location that meets the site criteria of Mountain Mike's Pizza. We do offer a real estate sourcing and assessment program and will assist you in selecting your location.

‹

Will I be involved in development and construction?

You will work closely with your Development Agent, who will guide you in selecting architects, designers, contractors and equipment vendors. Mountain Mike's Pizza will keep in close contact so that we can check the progress of the developing location.

‹

Is multi-unit development an option?

Yes! We encourage qualified franchisees to scale up with multiple locations. In addition, we offer a discount on the franchise fee with multi-unit investments.

‹

How many employees will I need?

A typical Mountain Mike's Pizza requires between 10 and 15 part-time entry-level employees. Owners can also hire a manager, but many franchisees manage the stores themselves. Absentee ownership is not permitted.
Download Franchise Report
Cost & Fees
Liquid Capital Required:
$100,000
Net Worth Required:
$300,000
Total Investment:
$208,020 to $593,520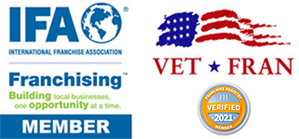 Finance Options
Franchising Steps
Step 1
Request For Consideration Form
Submit a Request for Consideration Form for review. Upon preliminary approval, you will be contacted to schedule an interview.
Step 2
Franchise Disclosure Document
After receipt and review of the FDD, mutual consent is established and a Mountain Mike's Pizza Franchise Agreement is signed along with the $30,000 franchise fee.
Step 3
Site Selection
With the guidance of your Development Agent you select your site to buy, lease, convert, renovate, remodel or build. This investment can range from $208,020 to $593,520.
Step 4
Training
With your site nearing completion, you take part in our extensive training program for owners and high-level management.
Step 5
Open Your Mountain Mike's Pizza
With training and building/renovations complete, it's time to turn on the open sign!
Watch Franchisee

Testimonials
Franchisees provide their personal perspective of what the business has offered to their own families as well as the families they serve in their local community.
Request Info
Franchisees provide their personal perspective of what the business has offered to their own families as well as the families they serve in their local community.