Mountain Mike's
Investment
Our initial investment falls between
$417,850
and
$798,500
, depending on the type of location you choose, according to Item 7 in our latest Franchise Disclosure Document (FDD). See the full chart below.
A Detailed Look
Becoming a Mountain Mike's franchisee grants you access to real estate and construction expertise, a modern up-to-date restaurant design, established successful training and operational standards and the invaluable experience of what works and what doesn't. We also introduce you to lending partners who may work with franchise candidates. That's a lot of support wrapped up in a restaurant launch package backed by one of the most experienced restaurant franchisors.
ITEM

AMOUNT
METHOD OF PAYMENT
WHEN DUE
TO WHOM PAYMENT IS TO BE MADE
Initial Franchise Fee (1)
$15,000 – $30,000
Lump Sum
On signing Franchise Agreement
Mountain Mike's – Us
Leasehold Improvements (2)
$130,000 - $366,000
As Agreed
As Incurred
Selected/Approved Contractors
Architectural and
Engineering Fees (2)
$12,500 - $16,500
As Agreed
As Incurred
Use Professionals
Furniture, Fixtures, and Equipment (3)
$160,000 - $213,000
As Agreed
As Incurred
Approved Vendors
Signage
$8,500 - $17,000
As Agreed
As Incurred
Selected/Approved Contractors
POS/Electronic Information System (4)
$10,800 - $15,500
As Agreed
As Incurred
Approved POS and Other Approved Vendors
Three Months' Rent (5)
$6,750 - $33,000
Lump Sum
As specified in lease or sublease
Landlord
Security Deposit (5)
$5,000 – $10,000
Lump Sum
On signing lease or sublease
Landlord
Opening Inventory and Supplies (6)
$20,000 - $29,000
As Agreed
As Incurred
Selected/Approved Contractors
Marketing Fee
$4,000
Lump Sum
On signing Franchise Agreement
Mountain Mike's – Us
Décor Package (7)
$9,000 - $12,000
As Agreed
As Incurred
Approved Vendors
Training Expenses (for all attendees)
$1,300 - $4,000
As Incurred
As Incurred
Working Capital Reserves
Professional Fees
$0 - $5,500
As Incurred
As Incurred
Your Legal Advisors
Miscellaneous Opening Costs (8)
$20,000 - $29,000
As Incurred
As Incurred
Working Capital Reserves
Additional Funds – 3 months (9)
$20,000 - $24,000
As Incurred
As Incurred
Working Capital Reserves
TOTAL ESTIMATED INITIAL INVESTMENT
(excluding real estate purchase costs) (10)
$417,850 - $798,500*
Explanatory Notes
MMP describes the initial franchise fee in Item 5. If you sign our Area Development Agreement agreeing to develop a minimum of 3 Mountain Mike's® Pizza Restaurants, then we will reduce the amount of Initial Franchise Fee to $15,000 or $7,500 (as applicable, see Item 5) for the second Mountain Mike's® Pizza Restaurant, and to $7,500 for the third Mountain Mike's® Pizza Restaurant and each additional Mountain Mike's® Pizza Restaurant you agree to develop under the Area Development Agreement.

The Restaurant's premises typically is in an endcap or inline location in a shopping center. A Restaurant is typically 2,200 to 3,500 square feet. The estimated Leasehold improvement costs will vary greatly depending upon the size and condition of the Premises, location of the Leased Premises, and local cost of construction. You must use one of our approved general contractors or another general contractor we approve to perform the work. You must obtain professional architectural and engineering drawings for your Restaurant. You must use one of our preferred architects or another architect we approve to prepare a preliminary floor plan, store design color renderings, and construction drawings which include a full set of elevations of the restaurant. Your costs for architectural fees may be higher if your Restaurant requires permitting variances or a patio design. We anticipate that you will rent the premises for the Restaurant, but you may purchase the property for your Restaurant. The estimate in the table above does not include the cost of constructing the building if you purchase the property. You may also receive an allowance, credit, rebate, or rent abatement from your Landlord to offset the remodeling and build-out costs you will incur to conform the Premises for the Restaurant. Your leasehold improvement costs may be offset if your landlord provides such an allowance, credit, rebate, or rent abatement. The estimated cost above is net of any tenant improvement allowance, credit, rebate, or rent abatement you may receive.

This item includes sinks, refrigerators, freezers, ovens, beer tap system, hood system, ventilation systems, display cases, tables, chairs, booths, walk-in cooler, light fixtures and office supplies. The range depends on whether any used equipment remains at the premises you take over.

MMP describes the POS/electronic information system in Item 11.

The rent and security deposit depend on the size, condition, and location of the premises and the demand for the premises among prospective lessees.

This figure is for food products, materials, smallwares, and supplies necessary to open the Restaurant under MMP's required standards and specifications.

This item covers interior signage, wall graphics, exterior, graphics, pictures, and other decor items.

This item covers miscellaneous opening costs and expenses, including purchasing and installing telephones, network cabling, televisions, tv digital menus, audio, security; utility deposits for gas, electricity, water, and similar low voltage items; business licenses (including beer and wine); permitting costs, accounting expenses; and insurance premiums. You may also incur costs for impact fees, water fees, or similar development fees.

This item estimates your initial start-up expenses (other than the items identified separately in the table). These expenses include payroll costs but not any draw or salary for you or your owners. These figures are estimates, and it is possible you will need additional working capital during the first 3 months you operate your Restaurant and for a longer time period after that. This 3-month period is not intended, and should not be interpreted, to identify a point at which your Restaurant will break even. Your costs depend on how much you follow MMP's methods and procedures; your management skill, experience, and business acumen; local economic conditions; the local market for your products and services; the prevailing wage rate; competition; and the sales level reached during the initial period. MMP relied on its principals' many years of experience franchising Mountain Mike's® Pizza Restaurants to compile this Additional Funds estimate.

You should review these figures carefully with a business advisor before deciding to acquire the franchise. MMP does not offer financing directly or indirectly for any part of the initial investment. The availability and terms of financing will depend on many factors, including the availability of financing generally, your creditworthiness and collateral, and lending policies of the financial institutions from which you request a loan. Fees associated with your loan are not included in the estimated initial investment above.
Liquid Capital REquired
$100,000
Net Worth REquired
$300,000
Total Investment
$417,850 TO $798,500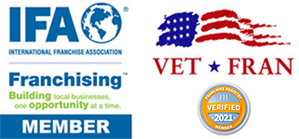 A personal perspective
Watch Franchisee Testimonials
Franchisees talk about what the business has offered to their own families as well as the families they serve in their local community.