How Big
is the Pizza Industry?
America's love for pizza
shows no bounds and no signs of slowing down
The $46 billion pizza industry is steadily growing, with another 10% increase predicted by 2023, according to PMQ's Pizza Power Report.
Food industry analysts Technomic says 83% of us eat pizza at least once a month. And TreadmillReviews.net says pizza is the No. 1 comfort food in 33 of the 50 states. (We don't know what's happening in those other 17 states.) Pizza is equally loved by men and women, and what family doesn't have a regular pizza night?
Mountain Mike's is a well-established franchise of 270+ units that's been around for over 40 years and is poised to grow with the booming pizza industry. We're hoping to grow our franchise by another 100 units over the next five years, which jibes perfectly with the pizza industry stats on growth.
Pizza industry Stats
worth knowing
Mountain Mike's is on a rock-solid, long stable track and we expect to double our size over the next 5-7 years. It is certainly a plus to be in one of the hottest franchise industries around.
How Mountain Mike's
competes
In the $46 billion U.S. pizza industry, CHD Expert estimates, independently owned pizzerias account for about $18.78 billion in sales, while chains and franchises generate about $26.95 billion.
Among the chains and franchises, Mountain Mike's stands out. We've built a thriving business in areas where other franchise chains struggle to compete, with a higher quality product, and an extraordinary customer experience. Since being acquired by new ownership in 2017, we almost doubled the average yearly growth rate in units. We've set a goal to rise from one of the Top 20 largest U.S. pizza franchises to one of the Top 10.
Part of the way we plan to achieve that milestone is by remaining true to our core values. Other big pizza franchises are concentrating on delivery and carry-out. About a third of our sales comes from dine-in.
That family-friendly experience, the central gathering place for smaller communities, the strong bonding over pizza and sports — that's Mountain Mike's. You won't see people going to Papa John's or Domino's to watch the big game. But you will see that over and over at Mountain Mike's.
It's "Pizza the way it oughta be®" not just because of the quality of our product, but also because we are committed to our communities. We offer party rooms, beer and wine, big-screen TVs and arcade games for the kids.
Our most successful franchisees are the folks who run that restaurant like it's a community establishment, so they're engaged in the community, the sports teams, the churches, the social clubs. They know that they have to be out there, pounding the pavement, and be part of that community framework in order to grow their business.
Liquid Capital REquired
$100,000
Net Worth REquired
$300,000
Total Investment
$417,850 TO $798,500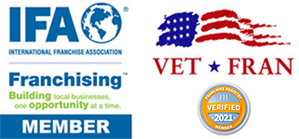 A personal perspective
Watch Franchisee Testimonials
Franchisees talk about what the business has offered to their own families as well as the families they serve in their local community.