Mountain Mike's makes
"Pizza the way it Oughta be.®"
"Pizza the way it Oughta be®"
is more than just a tagline for Mountain Mike's franchise — it's what we're passionate about. 
We are a leading, California-based family-style pizza chain with more than 270 restaurants throughout the Western U.S.
While many up-and-coming chains are competing in the assembly-line lunch business or focusing on delivery and carryout, Mountain Mike's does what we've done best since 1978: We offer fresh, quality, delicious pizza in a family-oriented casual dining environment. We're legendary for our crispy, curly pepperoni and our friendly service.
"If you have a Mountain Mike's Pizza franchise in your community, this is the place to meet," says COO and President Jim Metevier. "This is where you bring in the soccer team and the baseball team to celebrate. It's to celebrate both family and community. It's where mom and dad can have a variety of craft beers and wines and watch the big game on TV while the kids play arcade games and drink a pitcher of soda and everybody enjoys a great pepperoni pizza.
"That whole family aspect of the business is critical to our positioning."
Friends and Co-Owners Chris Britt and Ed St. Geme did their undergrad work at Stanford University in Palo Alto, CA, and they both have a lot of fond memories of the first Mountain Mike's Pizza, which opened next to the campus in 1978.
"Of course, this was before it became a chain," says Britt. "Then you fast-forward almost 40 years later, and lo and behold, it's a chain. We had a chance to acquire it. The product is the best in the industry. We jumped on the opportunity to own this fabulous brand immediately."
Not only were they excited about Mountain Mike's decades of successful growth, they also appreciated the opportunity to bring some real franchising experience to a business whose growth had all happened organically. Today, just a couple of years since Britt, St. Geme and Metevier took the helm, we're ready to take our proven franchise to the next level.
We remain steadfast in our dedication to delivering "Pizza the way it oughta be" and in our commitment to being an important contributor in whatever community we're located in. We're a hub for family and neighborhood gatherings, and people who grew up with us now look forward to sharing that experience with their own kids and grandkids.
In addition to our delivery and carryout business, our dine-in segment is thriving, comprising about a third of our volume. Every Mountain Mike's Pizza provides a fun dining experience with a variety of craft beers and wines for parents, big-screen TVs and plenty of activities for the kids, including arcade and video games as well as party rooms, ideal for sports teams, family gatherings, group fundraising events and private parties alike.
---
Mountain Mike's menu is full of fresh, high-quality ingredients, including 100% whole milk mozzarella cheese and our legendary curly, crispy pepperoni. Toppings are spread to the edge on dough that's made fresh in-house daily. And we round out our selection of mouth-watering pizzas with oven-roasted "tossed and sauced" boneless and bone-in wings, garlic sticks, a robust all-you-can-eat salad bar, and a variety of beer and wine.
---
Mountain Mike's franchise has been steadily increasing same-store sales for several years now, and our chain of over 270 restaurants continues to grow. While much of our growth has been internal, from franchisees who love the concept and the results so much they add more units or bring in friends and family as investors, we'd like to invite additional entrepreneurs to help us grow.
We've been a mainstay in Central and Northern California for over four decades, and we've got a lot of wide-open territory and opportunities to expand the Mountain Mike's brand in Central and Southern California, Oregon, Washington, Nevada, Arizona, Colorado, Idaho and Utah. We have brand recognition in all of these regions, but we also have lots of room to grow.
Liquid Capital REquired
$100,000
Net Worth REquired
$300,000
Total Investment
$417,850 TO $798,500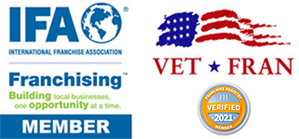 A personal perspective
Watch Franchisee Testimonials
Franchisees talk about what the business has offered to their own families as well as the families they serve in their local community.