Why Customers
love Mountain Mike's
Pizza
the way it oughta be!®
If you mention "Mountain Mike's Pizza" to anyone that grew up with the brand or considers themselves a loyal customer, those three words will immediately be echoed with the statement "I LOVE Mountain Mike's!". Maybe it's the crispy, curly mini pepperoni's that we pile on our legendary top seller, or maybe it's the family focused inviting atmosphere ideally set up as the perfect backdrop for your kids' birthday party or soccer team celebration after the big game, or maybe it takes them back to a simpler time when pizza places and family pizza night made for great memories and happier times. Those attributes still ring true today, and our brand more than ever makes food the hero and the experience something to remember.
We don't offer $5 dollar pizzas that taste like the boxes they're served in. We pride ourselves on a superior product, with fresh ingredients, but more importantly we serve communities "Pizza the way it oughta be®!" because they deserve it.
our legendary Crisply, Curly Pepperoni
it made us famous!
If the vast majority of all pizzas sold is pepperoni, then having a truly superior and far better-tasting pepperoni would surely give us a clear-cut advantage over the competition.
Mountain Mike's pepperoni does just that.
Our pepperoni is special, legendary, and has been a customer favorite for decades. The pepperoni other chains sell lies flat, and this is a clear sign that their customers are not getting the real thing. Mountain Mike's old-world pepperoni is made using a natural casing, creating a "teacup" look when cooked. It has been our signature product for over 40 years.
A little crisp, a little spicy, a lot of pepperoni… Our Pepperoni Pizza keeps customers raving about us and coming back time and again
Liquid Capital REquired
$100,000
Net Worth REquired
$300,000
Total Investment
$417,850 TO $798,500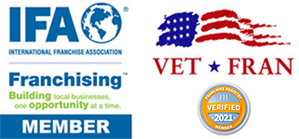 A personal perspective
Watch Franchisee Testimonials
Franchisees talk about what the business has offered to their own families as well as the families they serve in their local community.